These days, it seems like everyone is running away from the market as stocks crash ever lower. That is, everyone except for the "smart money" — company insiders.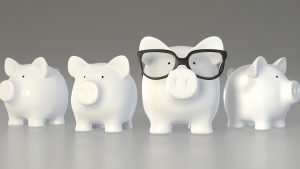 I'm talking corporate CEOs, COOs, CFOs, CTOs, board members, VPs, big hedge funds. Insiders are running at breakneck speed toward the market crash right now.
Indeed, just last week, corporate insiders went on their biggest buying spree of the past two years.
Now, these folks have a track record of calling market bottoms.
Smart money called the bottoms in March 2009, August 2011, December 2018 and March 2020 with huge insider buying sprees.
And now they're calling a bottom in May 2022 with another surge of buying.
We think history will prove them right once again. And we have an exclusive portfolio of small-cap stocks specifically engineered to profit 200% in the event they're right!
Here's a deeper look.
Smart Money Is Doing Lots of Buying and Very Little Selling
Corporate insiders went shopping last week.
Many stocks collapsed to 52-week lows and were dropping 30%, 40%, and 50%-plus off recent highs. And these insiders pulled out their wallets and started putting their money where their mouths are.
The chart blow graphs the number of daily insider purchases across the whole market. And as you can see, insider purchase volume spiked last week to 2-year-high levels.

More than that, these insiders aren't selling.
While buying has surged to 2-year highs over the past week, insider selling volume has collapsed to 2-year lows.

That's interesting. Previous big spikes in insider buying over the past two years were accompanied by large spikes in insider selling, too.
But not this time.
Now insider buying is surging while insider selling is plunging. That's a first since March 2020, right as the market was bottoming from its pandemic selloff. Then the whole market nearly doubled over the next year.
In other words, smart money is giving us a strong signal. They're saying the market is bottoming — and it's time to buy the dip!
What Stocks Are Insiders Buying?
Insiders are telling us the market will rebound over the next 12 months. We think they're right. Historically speaking, the data shows that stocks could rebound anywhere between 30% and 50% over the next year.
But while those are good returns, we're seeking even bigger gains. We want to double or even triple our money over the next 12 months.
So, we've a made an exclusive portfolio of "rebound stocks" specifically engineered to achieve that goal. That is, based on our back-tested models, this portfolio of stocks should rise more than 200% over the next 12 months.
As fate would have it, they are also the ones that insiders are gobbling up right now!
On Friday, the CEO of a company in that portfolio bought about $250,000 worth of his company's stock. That purchase means he's now bought more than a million bucks' worth of his company's stock so far in 2022.
In another one of our "rebound stocks," the CEO just threw $400,000 into it. In another, the CEO just bought more than $500,000 worth of the stock. In one other, the CFO bought about $300,000 of stock.
And in yet another, three insiders — including the CEO — shoveled out $1.3 million to buy their own stock.
Insiders are buying our "rebound stocks" like there's no tomorrow.
It may be because there might not be a "tomorrow" when it comes to buying these stocks at once-in-a-lifetime discounts.
Insiders are capitalizing on the opportunity. Now it's time for you to capitalize on it, too.
The Final Word on Smart Money
Every stock market crash turns into a rally. That has been and will forever remain true so long as the U.S. economy keeps going.
During a market crash, the goal is to identify the point at which it becomes a rally.
Insiders are saying we are at that point right now.
We think there's a good chance history will prove them right.
If so, the market could soar by 30% or more over the next year. But we're not looking for 30% returns in this market rebound. We're targeting even bigger profits.
That's why we've created our own exclusive portfolio of stocks specifically engineered to rise more than 200% over the next 12 months. 
This tailor-made portfolio popped 13% on Friday as the market turnaround got underway. If the rebound persists, days like that could become the norm for that portfolio.
No wonder smart money is buying the stocks in it like crazy…
That's the good news. But here's the bad news: My publishers informed me that we're nearing max capacity for that portfolio. And we'll have to close the doors on new signups any day now.
So, gain access to that portfolio and secure your chance to score big as this market crash turns into a rally.
On the date of publication, Luke Lango did not have (either directly or indirectly) any positions in the securities mentioned in this article.